Cosmetic Dentistry
Cosmetic dentistry is made up of the dental services that are specific to enhancing the appearance of the teeth. Your smile is a prominent feature of your face, and if it is not in the best condition that it can be, it can give a negative impression to your overall appearance. If you find that you cover your mouth when you laugh or talk to others, or that you only offer a closed-lip smile, please contact ATX Family Dental to learn more about our cosmetic dentistry services. Dr. Adam Gutwein, DMD has specific skills and specialties to help his patients achieve the best possible results through cosmetic dentistry procedures. Cracked, chipped, missing, misaligned, or stained teeth can all be improved through advancements in cosmetic dentistry. Dr. Gutwein has the expertise and gentle approach that you need to achieve the smile of your dreams.
ATX Family Dental is proud to provide tooth colored fillings to all of our patients. This eco-friendly option allows for people to mask their dental treatment by inconspicuous fillings.
If you are looking for a dental practice that can provide painless, tooth colored fillings that are both patient friendly and environmentally friendly, we are here for you. Our tooth colored fillings are constructed of high quality materials such as porcelain, composite, and ceramic resin to create a natural appearance in your mouth.

Dental bridges literally "bridge the gap" created by one or more missing teeth. This fixed prosthetic device is used to replace missing teeth to create a complete and healthier smile. If you are in need of a dental bridge, you can turn to the experts at ATX Family Dental. Our practice features Dr. Adam Gutwein, DMD, who offers this specialized service to restore your smile.
Dr. Gutwein is highly trained to provide dental bridges as well as a full range of cosmetic dental services to help promote the aesthetics of a complete smile. We also offer financing options through our dental practice to help you work this dental procedure into your budget.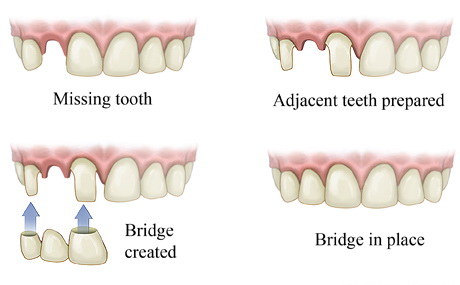 Porcelain Veneers
ATX Family Dental is proud to offer top quality porcelain veneers, as well as complete cosmetic dentistry for residents of Austin, Texas. Our experienced and highly trained dentist, Dr. Adam Gutwein, DMD leads our dedicated dental staff with a commitment to exceptional service and a focus on patient comfort.
Porcelain veneers are extremely thin, customized shells that are bonded to the front surfaces of the teeth in order to dramatically improve their appearance. If your teeth are severely stained or discolored, or you have gaps or minor misalignments in your teeth, you may be a good candidate for porcelain veneers. Schedule a consultation with Dr. Gutwein today to see if this advanced cosmetic dental service is right for you.
Teeth Whitening
A white smile is a beautiful smile! If you live in or around Austin and are interested in teeth whitening to improve the appearance of your smile, please contact ATX Family Dental. We are a comprehensive dental practice that offers exceptional services to patients of all ages.
A dull, stained or discolored smile can give others the impression that you do not have good oral health care habits. Let ATX Family Dental help you reveal your beautiful smile with our advanced teeth whitening technology. Call today to schedule an appointment.