Welcome to ATX Family Dental, your South Austin dentist
At ATX Family Dental, we believe that modern dentistry includes personalized care, just as much as having advanced equipment.
A healthy mouth is the cornerstone to physical wellness, an attractive smile is empowering, and prevention is your best investment. By combining clinical excellence and warmth, we believe we're building a dental home for you.
We know how hectic life can be, which is why we offer early and late appointments from 7am to 7pm.
We offer personalized dental care catering to your specific needs and we do this in a warm and welcoming environment to create a custom dental experience.
Using the best and safest materials in the industry, the most advanced dental technology, and green dental practices – we deliver the highest quality dental care throughout Austin, TX. We offer a wide variety of services including preventive dentistry, cosmetic dentistry, pediatric dentistry, sedation dentistry, and special service dentistry in a peaceful, relaxing dental atmosphere. We also offer scheduling conveniences such as Saturday appointments and family block appointments.
We believe that each patient is unique, therefore we strive to practice dentistry that way. Exceptional clinical care combined with premium service to deliver a unique dental experience in Austin, TX. Call today to reserve your appointment and let us change the way you see dentistry.
"He is awesome! Dr. G is very patient, and he really took his time to give me a thorough explanation every step of the way. After my procedure, I received a personal follow-up call from him, just to see how I was doing! I can't say enough wonderful things about him."
"Dr. Gutwein, thank you for having patience with me. You did a awesome job. My new smile is absolutely beautiful!"
"Dr. Gutwein is awesome! I had a tooth pulled today and he did great! Thank you!"
"Thank you Dr Gutwein for your patience and my new beautiful smile. You are the best dentist in the world."
"Dr Gutwein is great! He makes you feel comfortable with his mannerism and takes time to explain your treatment at every visit. I HIGHLY recommend him to anyone who is looking for a new Dentist!"
"…from the very first phone conversation to the initial consultation I knew immediately I had found my new dentist. They were honest, took the time to outline my treatment plan and go over my insurance estimates in detail."
"I definitely recommend Dr. G. I work in healthcare and have a good understanding of what your dentist should do when you go in for you exam."
"… not only is the office a beautiful space that you feel welcome & comfortable in, but the staff is so amazing. They make you feel like you're not there for dental work but your a friend they're checking up on."
"Dr. Adam and his staff were a true professionals and I have never felt better about a dental experience."
"Dr. Adam and his staff are super friendly. 10/10 would (have) recommend(ed). Do yourself a solid and book an appointment to get that grill fixed."
"I'm really glad I found them, and I will definitely be recommending them to my friends. Open great hours, willing to schedule online, and incredibly friendly. Wish I could give them six stars!"
Cosmetic Dentistry
Everyone wants their best-looking smile, but sometimes life gets in the way. If you're dealing with dark fillings, old crowns, food stains, or other cosmetic issues, we can help.
Emergency Care
We understand the crisis of a dental emergency. If something goes awry outside of our business hours (Tuesday-Thursday), reach Dr. Gutwein by phone or email for immediate attention, 24 hours a day, 7 days a week.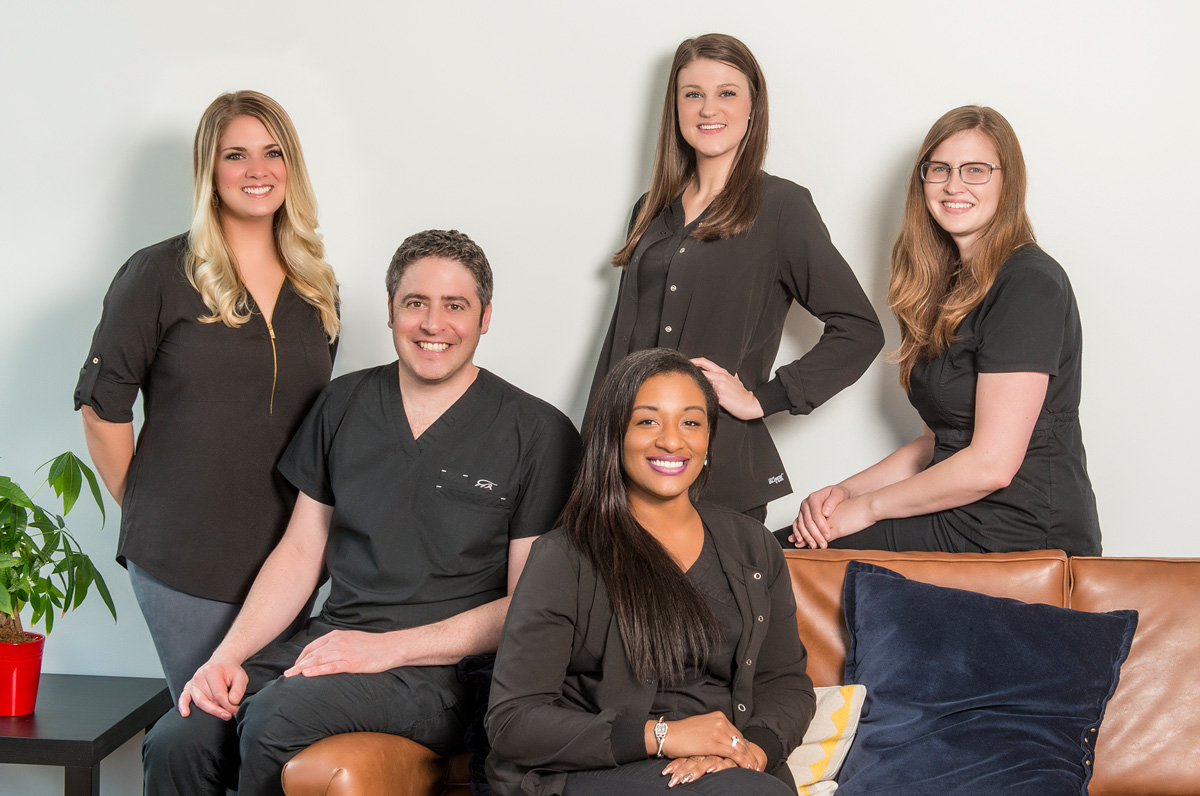 Preventative Dentistry
The biggest way to avoid serious dental issues is sticking to a regimen of prevention. Cleanings, exams, sealants, fluoride varnish, and night guards inhibit damage so that your can have a dazzling and long-lasting smile.
Bonding and White Fillings
Cracked or fractured teeth can be painful and embarrassing. Bonding can repair tooth damage for a flawless smile. Cavities are another problem, but dark metal fillings are unsightly too. If you opt for white fillings, you'll enjoy a more natural looking repair.
Crowns and Bridges
If teeth are missing or too heavily damaged, you need crowns and bridges to repair your smile. Our durable porcelain inserts are less invasive than other solutions and help you chew and speak normally so you can get on with your life.
Veneer Dentistry
Veneers are made of porcelain. They're shaped into a thin shell that encapsulates your tooth. The effect is a flawless smile free of stains, chips, and other unsightly marks. Many people love veneers because they're comfortable, offer enhanced aesthetics, and can better your smile.
Dental Implants
Dental implants are another alternative for missing teeth. They're engineered to feel and function naturally. Many clients favor them over bridges because they don't affect adjacent teeth; they anchor safely into the jaw.
Tooth Whitening
Coffee, wine, cherries… these are just a few foods that, after some years, can stain otherwise healthy teeth. Choose from in-office services or custom kits for home.